Beijing Transportation
Beijing has a convenient transportation network, which can reach all the major scenic spots, including the suburbs, but traffic jams during rush hours are also a worry for travelers. When visiting the city, try to choose the subway when visiting the city in the morning and evening. To ensure that time is not wasted.
Taxi-hailing software and public bicycles have a wide range of coverage in Beijing, and they are also good choices for travel. It should be noted that around some scenic spots and near transportation hubs, "black cars" and informal tourist buses will pretend to be regular tourism companies, which need to be identified and vigilant.
Bus
Beijing's public transport system is very developed, with bus lines covering the main urban areas and suburbs.
Public transportation is divided into ordinary bus, night bus, tram and Express bus. Double-decker bus is a type of ordinary bus, not a special sightseeing bus.
Fare
Beijing bus is priced by stages, starting from 2 yuan, the fare is calculated according to the distance. If you use a municipal bus card, you will get a 50% discount. However, if you forget to swipe your credit card when you get off the bus, the fee will be deducted automatically if you take the same bus again, and the fee will be calculated according to the maximum fare for the number of times you forgot to swipe your card.
Travel instructions
Get on and off
Buses in Beijing are divided into two-door and three-door buses. If it is a "two-door" bus, it is "getting on at the front door and getting off at the back door", while the "three-door" bus is "getting on at the middle door and getting off at the front and back doors". If you use the exit door to get on or get off the bus, it will cause inconvenience to other people and it is very impolite.
Prepare to get off in advance
When taking a bus in Beijing, local passengers are used to standing by the exit door before entering the station at the destination, and the driver will also judge the stay time according to the monitoring in front of the exit door, and even "dump the station" during the time when there are few people. So if you get up after the car stops, especially when there are too many people, you may miss getting off.
Special seat for old and young patients with disabled pregnancy
The bus has special seats for the elderly, sick and disabled, usually yellow seats, in which the sick, young or the elderly can get the help of "giving up their seats". Healthy adults try not to take such seats when taking the bus, leaving convenience to those in need.
Ask for help
At present, many cars in Beijing no longer have special crew members, but are replaced by security staff. If you encounter the situation of asking for directions, it is best to inquire through your own mobile phone in a vehicle without a flight attendant, so as not to disturb the driver while driving.
Taxi
Taxis in Beijing start at 13 yuan, including 3 kilometers. The rental price for kilometers is 2.3 yuan. Wave and stop, but in today's era of ride-hailing apps, it's not easy to stand on the side of the road and take a taxi, especially during rush hours such as the rush hour and the 5pm-10:00 rush hour.
Matters needing attention when taking a ride
Take a regular taxi
Taxis in Beijing are generally "gaudy", there are also a small number of black taxis, and all regular taxis have license plates on the roof, starting with "Beijing B". Regular taxis do not take the initiative to stop for passengers. In order to ensure your own safety, don't take a black car and remember to ask for an invoice when you get off.
Avoid a detour
Tourists who are not familiar with Beijing roads and do not know the distance between departure and destination can use their own mobile phones to navigate. If drivers make a malicious detour, they will point out in time, of course, there will be drivers who are familiar with roads to avoid congestion. Drivers can also help drivers show the way through the road conditions of the mobile phone map. If you find a malicious detour and a bad attitude, you can write down the car number and the rental company and complain by phone.
Use the meter
Regular taxis must be charged through the meter, and there is no need to ask the taxi driver when getting on the bus. If the driver refuses to turn on the meter, you can complain. In scenic spots in central urban areas such as Xidan and Wangfujing, taxi drivers will solicit guests at a price, and the normal fare of 20 yuan will be called to 50 yuan, and the driver will refuse to negotiate on the ground that "you are not familiar with Beijing." Refuse to take such a taxi to avoid economic losses.
Property security
When you get out of the car, make sure you take all your belongings with you and whether your suitcase is in the trunk. Due to the high frequency of taxi use in Beijing, if the property is lost, the possibility of finding it is not high.
Toll
In taking a taxi, in addition to the fare, all additional fees, such as tolls and bridge tolls, should be borne by passengers.
Car hailing and supervision telephone
Car-hailing telephone: 010-96103.
Supervision and complaint telephone number of the Commission of Communications: 6835 1150,6835 1570.
taxi-hailing apps
Didi, Shenzhou Premier Taxi and Shouqi car-hailing are several kinds of ride-hailing software commonly used in Beijing, among which Didi's express ride, ride-sharing and ride-sharing are cheaper. It is recommended that at night, go to remote areas, single girls use chauffeured cars or taxis, which is safer.
Due to the long peak period, the period of doubling the peak fee when using taxi-hailing software in Beijing is longer. Especially in popular business areas, such as Sanlitun and Xidan, it is still 1.6 times the price to call a taxi around 10:00 in the evening.
Subway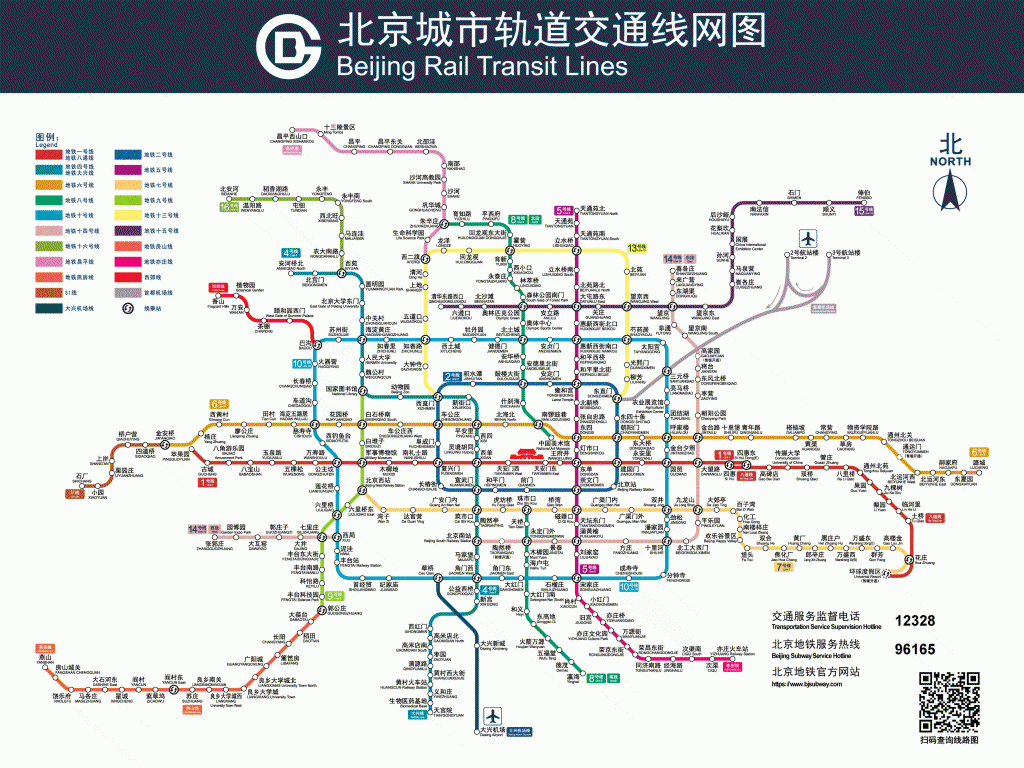 Click here for a larger picture
Ticket price and ticket purchase
Beijing Metro adopts sectional pricing, with a minimum fare of 3 yuan per person. The fare is calculated according to the mileage. There is no need to leave the station and repurchase tickets between transfers.
Tickets can be purchased directly in the subway station, and tickets can be purchased through self-service ticket machines and manual ticket windows. Generally speaking, self-service ticket vending machines can avoid queuing. However, no matter which way to buy tickets, you can only use cash to buy tickets.
The fare of the Airport Express is 25 yuan per person, which is charged separately and a bus card can be used.
Operating time
Between 5:00 and 23:00, each line will be different. You can consult the staff at the station "the time of the last bus passing through this station" to ensure that you can catch the last bus.
In the event of a large performance, some lines may extend the operating time (for example, Line 10 will extend the operating time for a large concert at the Bird's Nest), and in some cases, the operation will end early. Please pay attention to the broadcast in the station to avoid causing trouble to your travel.
Peak hour
The subway is the most important means of transportation for commuters in Beijing, so it will be very crowded during the rush hour every day. The peak hours are generally 7: 00 a.m. to 9: 00 a.m. and 5: 00 p.m. to 7: 00 p.m., but the actual peak hours will be longer than this time. Try to avoid taking the subway at this time.